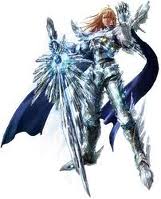 Crystal Guardians
(formerly known as
Moon Elves
) are one of the civilised species that roam the safe areas of
Beaghonho
. They arrived since the year 1760 when the
High Moon Elves
(and the remnants of the Lesser Moon Elves) faced their extinction. But for unknown reasons a portal opened and they fled. Popular theories suggest that this portal was opened due to the
Necromancy
performed by the
Blood Moon Elves
.
It is unknown what happened to the Blood Moon Elves after the remaining Moon Elves fled Jovulusio.
The Crystal Guardians live in several cities such as:
The Crystal Guardians are able to use the minerals of Beaghonho (mostly diamond and crystals) and have the best defensive weapons that can be made. Their ranks themselves are few:
Ad blocker interference detected!
Wikia is a free-to-use site that makes money from advertising. We have a modified experience for viewers using ad blockers

Wikia is not accessible if you've made further modifications. Remove the custom ad blocker rule(s) and the page will load as expected.